A Campaign Against Child Labour by Savedaughters Foundation
Savedaughters feels that there is no better means than education to work to end child labor in the country and provide basic school education to the country's underprivileged children. Through this outreach effort, We wants to raise awareness about the vulnerability of disadvantaged children in our society. Save Daughters wishes to appeal to the privileged - rights of all protected children, say no to child labour, all children rights to learn well.
Would You Like to Help the Children Today?
Your small contribution can make a big difference in children's future. Savedaughters relies on the magnanimity of people like you to bring about real change for the children of India!
Visit www.savedaughters.com and give some of the amount as a child labour help.
Changing the Behavior and Practices of Child: Savedaughters
With your support, we stop the child labour working with parents. Savedaughters, teachers, communities, Anganwadi workers, district and state governments, as well as help in stoping children working below 14 years.
Savedaughters focuses on changing the behavior and practices at the grassroots level and influencing public policy at the systemic level, creating an ecosystem where "children are the nation's priority".
Child Labour Awareness Campaign: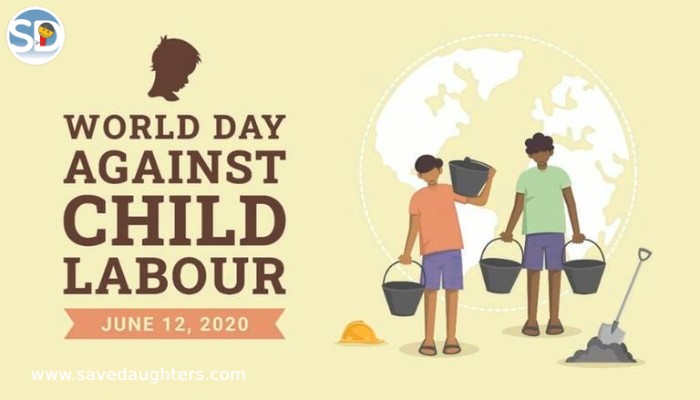 How to Stop Child Labour in India?
A lot needs to be done in the political arena to stop exploitative child labor in India: laws against child labor need to be further strengthened and enforced more strictly. In addition, it is important to combat extreme poverty, one of the root causes of child labour. To stop child labor in India, it is important to remove poverty and inequality. Access to education is also essential to break the vicious cycle of poverty and child labour. As children complete higher levels of education, they are more likely to find decent jobs in adulthood and can use their income to care for themselves and their families without relying on child labor.
Although education is compulsory and free for children up to 14 years of age in India, families prefer to put food on the table rather than send their children to school due to widespread poverty. As a result, many children go to school irregularly or do not attend school because they have to work.
Savedaughters: Say No to Child Labour:
On the eveening of World Labor Day, Savedaughters Foundation, a national development organization, organized a campaign at important places such as schools, bus stations and public service places to sensitize the underprivileged and underprivileged children through education. Empowerment can be appealed.
Although June 12 is celebrated as Day Against Child Labour, Savedaughters Foundation feels that when all attention is focused on May 1, which is celebrated as child Labor Day, the theme of childhood and the future There may be no opportunity to raise being wasted as child labour.
Donate now to the Savedaughters Foundation in India. We provide quality education, healthcare, nutritious food and all the things necessary for a child bright future.
Social Accounts:- Facebook
Contact through contact form