Haryana Saksham Yojana
Haryana Saksham Yojana is a scheme of the Haryana government started on 1st November 2016. this is a scheme in which the number of unemployed rising in the state has come down significantly. If you are interested in this scheme, then you should fill the Haryana Saksham Yojana 2021 Application Form as soon as possible. This plan is said to be very effective. The candidate participating in this scheme is provided work in government and private companies on the basis of his merit. Read more detail from here...
Haryana Saksham Yojana Overview
Harayna saksham yojana 2021 was launched on 1st November 2016. This scheme is helpful to provide allowance to thousands of youth till now. the allowance is given on the basis of merit. the candidate is given a private job in a private company. The main purpose of this scheme is to provide employment to unemployed people. this will improve the financial condition of Haryana unemployed people. The candidate who are interested in this yojana then download the official notification and read all the information about this yojana carefully, information like eligibility criteria and application process carefully, advantage and disadvantage carefully. Check the below table to know more information in an easy way:-
| | |
| --- | --- |
| Name of Scheme | Haryana Saksham Yojana |
| Started by | Government of Haryana |
| Motive | Provide salary to unemployment |
| Beneficiaries | Unemployed Youth of State |
| Scheme under | State Government |
| Name of State | Haryana |
| Official Website | |
| Starting year | 2016 |
| Last Date | No information available |
Haryana Saksham Yojana Registration Process
Step1:-First visit the official website of the Haryana Employment Department-.https://www.hreyahs.gov.in/
Step2:-After you will see the home page.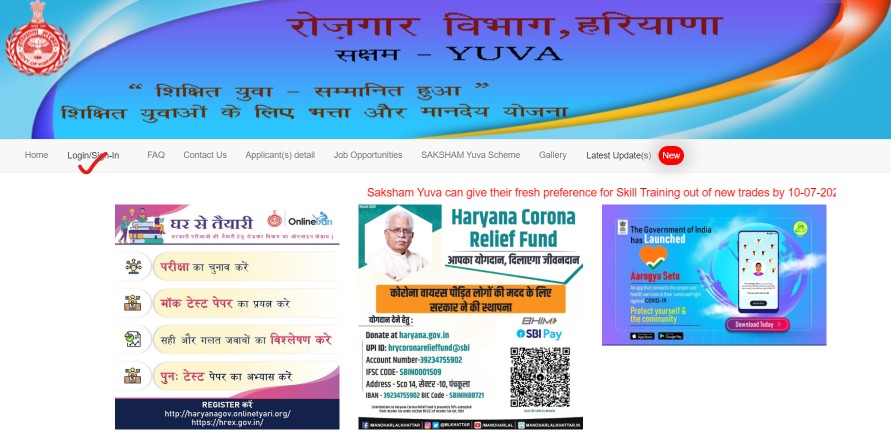 Step3:- Next step is to click on the button Registration/ Signup.
Step 4: Now you will see the given options like CSC, DLO, Saksham Yuva, Sub Admin, Admin, Aggregator etc.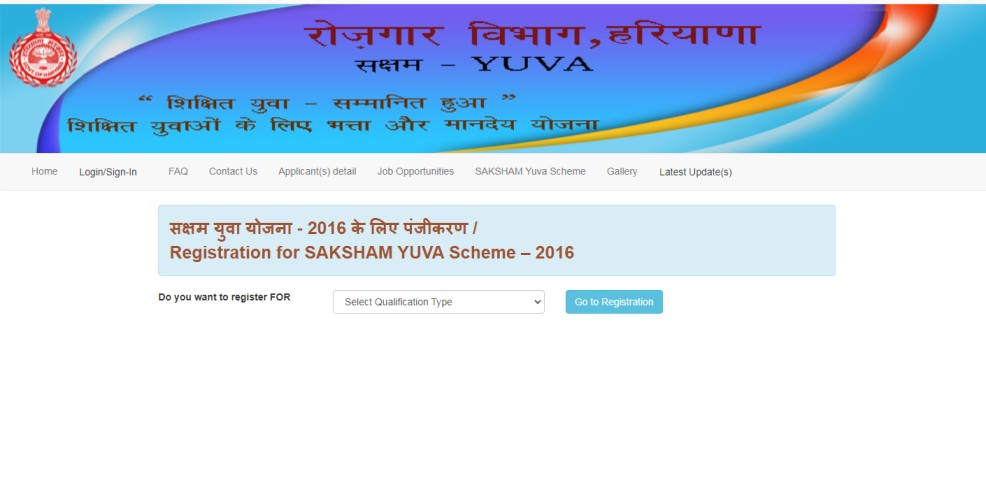 Step 4:- Choose one option based on merit.
Step 5:-After clicking on the option, you will have to enter your personal information on the new page in front of you.
Step 6:After then submit your username, password, and code.
Step 7: After then you can successfully log in to your account.
Note: The most important thing is that keep your username and password in your mind or written down somewhere. Next time you will easily enter into this Haryana saksham yojana easily through this user and password.
Haryana Saksham Yojana Required Document
To enter this yojana and want to know what are the document required in this scheme. Here in this section, you will get all the list of documents required in this scheme.
Identification Proof - Adhaar Card, Pan Card
Residence or Address Proof - Adhaar Card/Electricity Bill/Water Bill, Domicile/ Residence Certificate
Other Required Documents - Bank Account Details and Account Number Linked with Aadhaar Card, Passport Size Photographs
Haryana Saksham Yojana Application Form

Haryana saksham yojana was launched in 2016. Under this scheme government of Haryana provide a monthly allowance to educated youth and an honorarium to eligible applicants such as 10+2, graduates, postgraduates in various department boards, corporations and societies, etc.

There are two concepts of this scheme:-
The first component of this scheme is Up to Rs.3,000/- monthly allowance to the Unemployed in which Rs.100 per month to Matriculation qualified applicants (male or female), Rs.900 per month to 10+2 qualified or equivalent applicants, Rs.1500 per month to Graduates or equivalent, Rs.3,000 per month to Post Graduates or equivalents.
The second component is a Monthly Honorarium up to Rs.6,000/- per month for maximum 100 hours of honorary assignment in a month under various Departments/Boards/ Corporations/Registered Societies etc. registered under Haryana Government and in Private companies/enterprises (as per their requirement).
Haryana Saksham Yojana Benefits
There are lots of benefits of saksham yojana but the most important benefits are:-
Allowance of Rs 3000 per month for post-graduates, Rs 1500 per month for graduates and Rs 900 per month for 10 + 2 applicants.
Salary of Rs 6000 per month for all 10 + 2, graduate and post-graduate applicants for 100 hours honorarium work.
Provide Skill Training for all eligible applicants / competent youth of haryana.
Haryana Saksham Yojana eligibility criteria
The applicant should be the permanent residence of Haryana state to get the benefits under the scheme.
The applicant who is interested in this scheme must be registered in the Employment Exchange.
It is compulsory for the applicant to pass a postgraduate.
The applicants between 21 to 35 years of age are eligible to apply for the scheme.
The applicant's family's annual income should be less than three lakhs.
Haryana Saksham Yojana helpline Number