Heidi Klum poses nude on Instagram! Shows off tan lines in a black thong!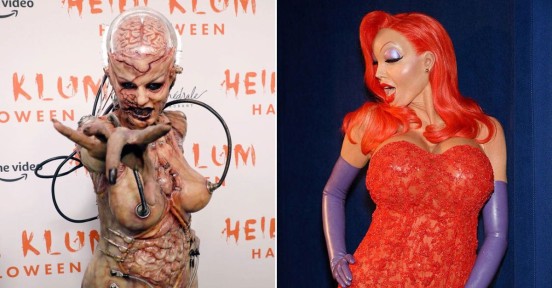 Halloween is around the week and our beloved celebs are preparing the best for the paparazzi to show off their iconic as well as unique Halloween costumes.
We all love to see our beloved celebrities in different dresses, costumes, makeovers, etc., but, when they go a little bit bold in front of the public in terms of revealing their well-maintained bodies on which they work so hard all year long the fans go nuts.
How Heidi Klum shocked her fans!
Heidi Klum, the 49-year-old supermodel and the "Undisputed Queen of Halloween" on Sunday ahead of her iconic Halloween party to be held on this coming Thursday posted a bold and somewhat you can call "Nude" picture of herself on her official Instagram handle https://www.instagram.com/heidiklum/.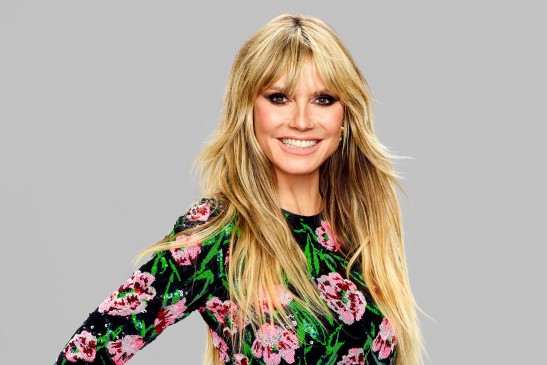 Heidi Klum teased her fans and Instagram followers by posting a mirror selfie that shocked and popped the eyes of each individual who saw it, Heidi Klum was seen completely nude in the picture except for a teeny black thong that was revealing off her bold tan lines.
The supermodel captioned the picture "Halloween Prep ? 1st step!! Tanning with @jimmyjimmycoco", alongside tagging celebrity tan expert Jimmy Coco.
More insights from the story
The supermodel Heidi Klum is excited about her 20th Halloween party which she has been hosting since 2000, it has not happened for 2 years due to the recent COVID pandemic.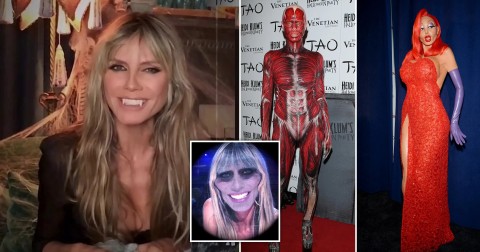 Heidi Klum will host the 20th-anniversary edition of her annual Halloween party at the newly opened Cathédrale at the Moxy East Village hotel and the music to the party will set allowed by Heidi Klum's favorite DJ Questlove.
Heidi Klum is preparing for a "claustrophobic" costume this time for her fans on the occasion of Halloween revealed to Fox News Digital by the supermodel herself.
Heidi Klum also told the TooFab in around the time of August that they should just wait and watch for her this year's Halloween costume as it is going to be the best one.
Heidi Klum has always dressed uniquely over the years to please her fans all around the globe because she thinks they love her creativity which she reveals in different forms in front of the eyes of the world and shows them how beautifully the artists put up their best efforts in making these Halloween costumes look as if the fictional character is existing in reality.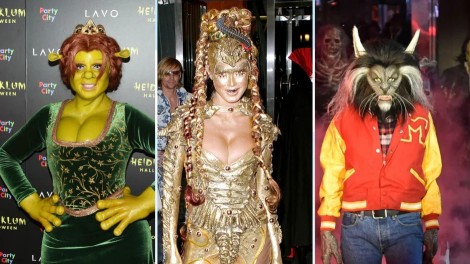 During the pandemic when her Halloween parties were on pause, the supermodel Heidi Klum was not backing up to show her creativity to the world, so she released two short horror films during that time.
In the first film, it was seen that her kids were turning up into mummies, while in the other film Heidi Klum was seen scaring her family as she turns up into a decomposing zombie, and this was very much loved by her fans all around the world.
Heidi Klum FAQs
Ans - Ahead of the iconic Halloween party which is hosted annually by the supermodel Heidi Klum, posted a nude photo of herself on Instagram. See photo.
Ans - Latest news on the Instagram photo posted by supermodel Heidi Klum, revealed her tan lines in just wearing a black thong.
Ans - Check out the latest photo posted by Heidi Klum on her Instagram where she is completely nude and just wearing a black thong that reveals her tan lines.
Heidi Klum's official Instagram
Ans - The official Instagram handle of Heidi Klum is https://www.instagram.com/heidiklum/, you can check out her latest nude photo on it.
Ans - The net worth of Heidi Klum as of 2022 is estimated to be around 160 million dollars (USD).
Thank you for spending time reading this content. Please share your opinions on this blog. Instagram Crashes News
Visit this website to read more entertaining news, celebrity biographies, and much more:- choosedbest