Improving the Quality of Education in Rural Area
There are two categories are divided into Indian demographic rural and urban
Rural areas mean people depend on agriculture and urban means population depend on technology
The condition of rural and urban is a sore thumb because the majority of the country's population lives in the villages. according to the national survey scheme, the rate of urban is 70.5% and the rate of rural is below from urban which is 69.1%.there are a lot of government schools but when it comes to private school there is not enough infrastructure. In rural areas mostly students especially girls drop school at a very early age and getting married.
Only a few people of rural continue their education long enough to make a difference.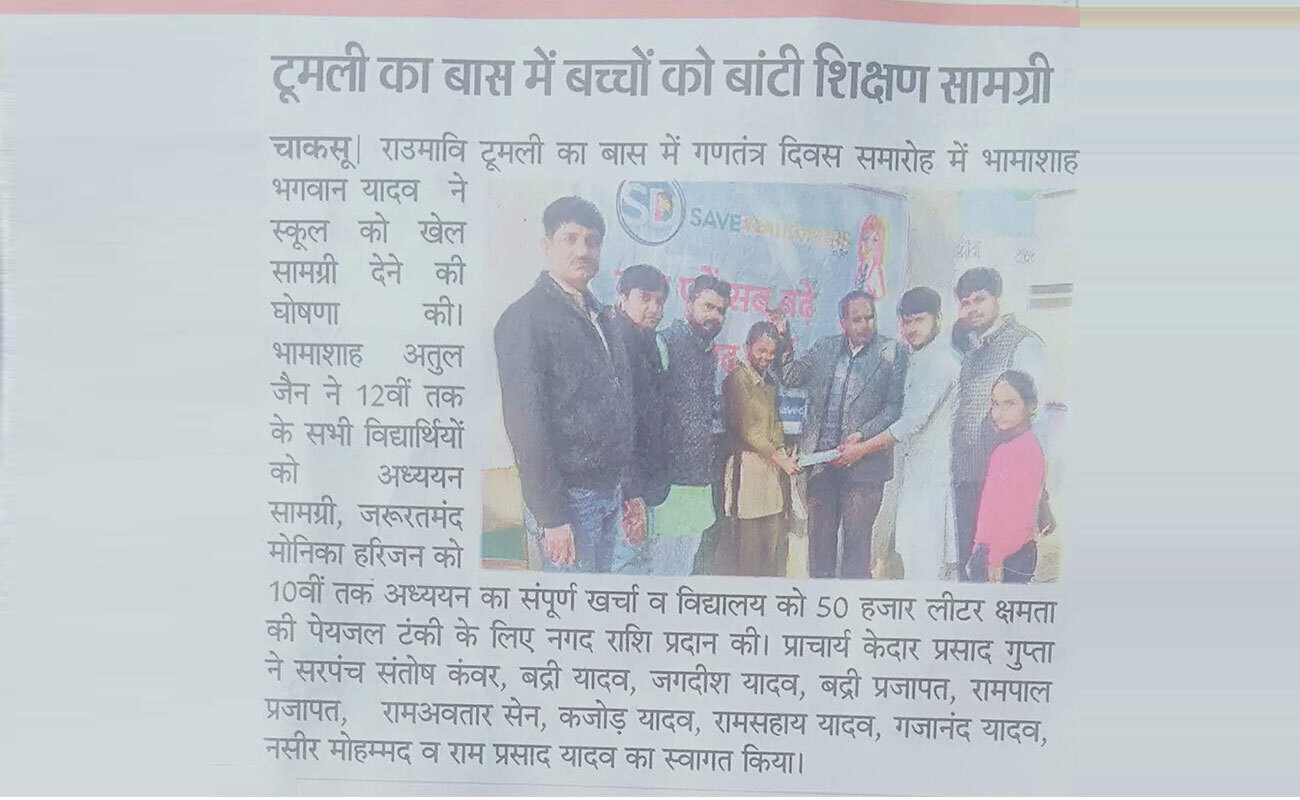 Save daughters foundation help rural people. they provide education to poor people
(In the above image atul mangal who provide the necessary material to students of 12 class and 10th class and also provide 50ltr water tank.)
The main reason behind this is that poverty. In villages, 90% send boys to work outside but girls help in household chores.
The government provides many initiatives to improve the quality of education in the backward areas. they try to open schools to increase the teacher ratio. save daughters not only provide education but also provide nutrition and health in children also.
there are many Schemes for Infrastructure Development of Private Aided/Unaided Minority Institutes (IDMI) which encourage school staff to make better use of the amenities and suggest you maintain a basic level of infrastructures such as like separate toilets for boys and girls, sanitary dispensers for girls, one classroom per class and a minimum of three teachers in primary schools.
there are many factors that are considered beyond the control of the government. the government does best for us such as they allocate the best teachers but these teachers are not always well trained. Lack of proper knowledge and proper guidance is a discouraging factor. there are many other problems are most teachers come from similar backgrounds and cannot able to teach and handle computers efficiently. other problems in rural areas are elecrticty problems a lot of villages do not even have a stable supply of electricity.
there is a major problem is the internet problem. due to this, there are several problems such as It can break down the language barrier with the use of videos to explain concepts.
There are the following points to improve the quality of education in rural areas:-
Boost free education.
Establish more private and government schools and colleges
Provide better infrastructure. ...
Bring innovative teaching methods. ...
Promote computer literacy.
To support us and to improve the quality of education in rural areas with save daughters donate us.
Social Accounts:- Facebook
Contact through contact form