Iranian Female Climber Elnaz Rekabi Missing Reports were Rumours.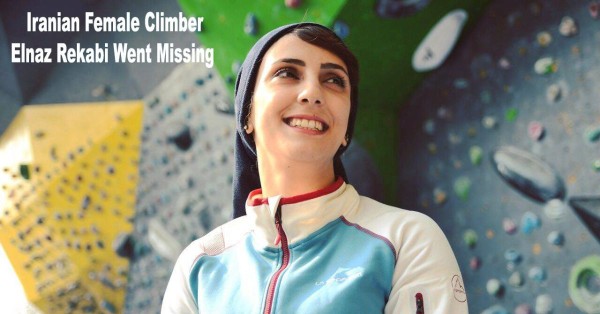 Elnaz Rekabi News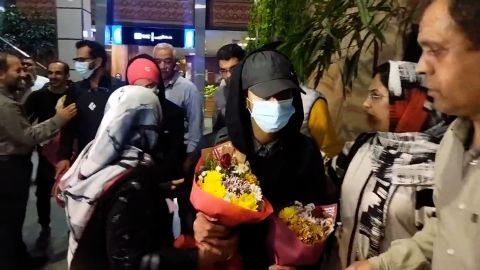 Elnaz Rekabi, 33 years old Iranian female climber posted an apology on her social media handle Instagram on Tuesday regarding the incident of her competing in a competition without the compulsory headscarf or "Hijab" of the Islamic attire after which reports came out that she went missing while returning home with the team. But, then it has now been officially confirmed that the climber has returned back to Tehran on Wednesday morning.
The crowd gathered in large numbers at the Imam Khomeini International Airport outside of Tehran on Wednesday morning to welcome her back to Iran.
What actually happened?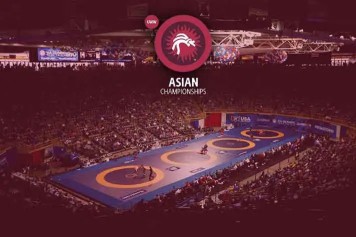 The incident took place when Elnaz Rekabi was competing in an Asian Championship organized in Seol where she was seen climbing in the competition without the compulsory headscarf or Hijab.
How did the athlete respond?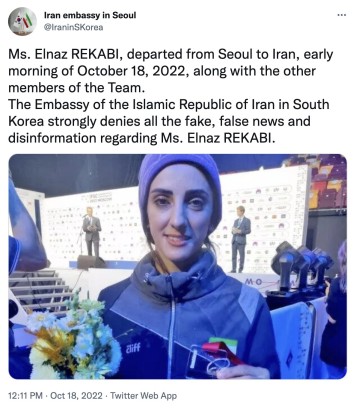 Soon after the incident took place, Elnaz Rekabi posted an apology on her Instagram that this act of not wearing the Hijab or the headscarf from her side was clearly unintentional and it was the consequence of poor scheduling due to which she was called unpredictably for the climb by the time she was not completely ready.
What Iranian officials reported?
A member of the Iranian Climbing Federation who does not wants to be named has told The National that Elnaz Rekabi is completely in "good health", he added that Elnaz Rekabi is on her way back to Iran, claims Elnaz Rekabi to be in Doha as according to him she took a transit flight from Seoul earlier today, and will be landing back home later tonight.
The member also said that the information which is floating in the media of Elnaz Rekabi being missing is completely wrong and the federation assures and confirms that she is in good health he added again.
The member was asked that are there any repercussions that the Iranian climber Elnaz Rekabi may face due to the headscarf incident that happened in Seoul, but he declined to comment on this matter.
What IFSC comments on the matter?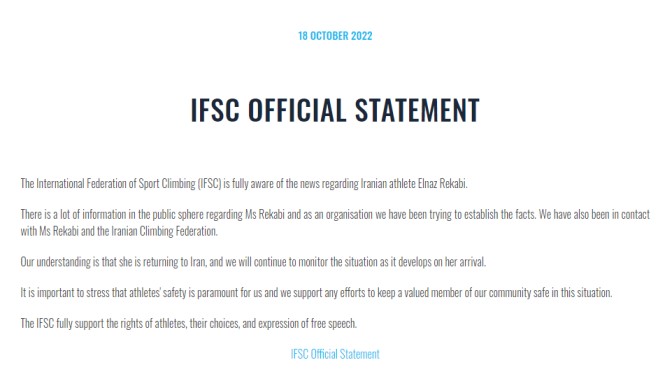 The International Federation of Sport Climbing (IFSC), on the reports of Elnaz Rekabi being missing, commented that while the athlete was competing in the Asian Championship in Seoul, all the way back at her home female-led demonstrations against the clerical rulers were going on strict Islamic rules over an Islamic woman's attire. But, now as it is in their knowledge that Elnaz Rekabi is safe and sound at her home they are relieved.
Interesting Facts Related to Elnaz Rekabi Missing Report
Elnaz Rekabi became the second Iranian athlete not to adhere to Tehran's strict dress code while representing the country.

Elnaz Rekabi however finished in fourth place in the event.

Elnaz topped the headlines around the world for not wearing the Hijab.

BBC reported earlier that a source who is close to Elnaz Rekabi has said that they have not been able to contact the climber since Monday night.

Elnaz Rekabi left Garden Seoul Hotel on Monday morning with other Iranian athletes.

Earlier on Tuesday, sources told BBC Persian that the passport and mobile phone of Elnaz Rekabi has been confiscated.

In 2016, Elnaz Rekabi in an interview with Euronews spoke about the Hijab being a problem while competing in various competitions during hot temperatures.

The decision of Elnaz Rekabi of competing without the Hijab has led to a mass anti-government protest and the case of Mahsa Amini's death in the custody of morality police earlier in September has fired up once again.
Elnaz Rekabi FAQs
Ans - Check out the latest news on the missing report of the female Iranian climber Elnaz Rekabi while returning home to Iran. Read the full story and official statements.
Ans - Read the latest news of Elnaz Rekabi returning home to Tehran where the crowd welcomed her. See photos, videos, and more.
Ans - Officially there is no information available related to Elnaz Rekabi being married or being in a relationship with anyone publically.
Elnaz Rekabi has won how many medals?
Ans - The Iranian female athlete and climber Elnaz Rekabi has won 80 medals till now in her career.
Ans - The net worth of Elnaz Rekabi is estimated to be 500 million dollars (USD).
How many followers does Elnaz Rekabi have?
Ans - Elnaz Rekabi is very active on her Instagram profile https://www.instagram.com/elnaz.rekabi/ and has around 246K followers presently.
Thanks for reading this article. Please share your opinions on this blog. Elnaz Rekabi News
Visit this website to read more entertaining news, celebrity biographies, and much more:- choosedbest