Pradhan Mantri Awas Yojana (PMAY)
Pradhan Mantri Awas Yojana is a scheme of government implemented by the ministry of housing and urban affairs launched on 25th June 2015. the main mission of this scheme is to ensure a pucca house for all eligible urban households.
Using this yojana purchasing the house becomes affordable for first-time home buyers. This scheme is for all people of all locations in the country with its credit links subsidy. In this yojana, beneficiaries have been included who had recently applied online under the Pradhan Mantri Awas Yojana.
In the Pradhan Mantri Awas Yojana list, those beneficiaries also included who had recently applied for this scheme. beneficiaries who are included in the list because their document is completely verified.
PM Awas Yojana 2021 Overview
Pradhan Mantri Awas yojana is a for poor income group of the country in urban and rural areas. The main objective of this scheme is to build approx 2 crore houses by March 31, 2022. Another scheme which is CLSS or credit-linked subsidy is credited to first-time home buyers. The maximum limit of this subsidy of Rs 2.67 lakh. if you are interested in this scheme then you can take advantage of this yojana. Pradhan Mantri Awas Yojana was launched on June 25, 2015. This scheme was divided into four parts are follows:-Economically weaker section, the lower-income group, the middle-income group Group 1 (MIG1) income between 6 lakh to 12 lakh, Middle Income Group 2 income between 12 lakh to 18 lakh(MIG2).
| | |
| --- | --- |
| Name of Scheme | Pradhan Mantri Awas Yojana |
| Started by | Government of India |
| Motive | Provide Financial Support to build House |
| Beneficiaries | Poor people of the country |
| Scheme under | State Government |
| Name of State | India |
| Official Website | |
| Starting year | 22 June 2015 |
| | Last Date |
| PMAY Phase 1 Period | April 2015 to March 2017 |
| PMAY Phase 2 Duration | April 2017 to March 2019 |
| PM Housing Scheme Phase 3 Period | April 2019 to March 2022 |
Residents who are interested in this scheme can check the registration process below:-
PM Awas Yojana Registration Process
PM Awas Yojana 2021 registeration process is very simple and easy to understand. steps are as follows:-
STEP 1: Visit the official PMAY website (https://pmaymis.gov.in/..)
STEP 2: You will see the home page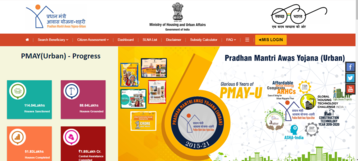 STEP 3: On the above page, you will see an option for citizen assessment Click on that option then click on apply online.
STEP 4:when you click on apply online, a menu will open in which you see 4 options(slum redevelopment, affordable housing in partnership, beneficiary lead construction, credit link subsidy scheme) choose one option according to you.
STEP 4: After choosing you will see a page in which the user must enter his Aadhar number. Click on the check option.
STEP 5: After clicking on the check option fill in your details Name of Head of Household, state name, Name of the district, Age, current address, House number, mobile number, Cast, Base number, Name of the city, and village.
STEP 6: Click on submit button and hence your application process is completed.
PM Awas Yojana 2021 Required Document
Aadhar Card
PAN Card
Passport
Voter ID Card
Driving License
Any photo identity card issued by the government of India.
Identity Proof verified by a public authority or gazetted officer that recognizes the identity proof of the applicant (Note: The letter of the identity proof should not be more than 30 days old).
Ration Card
Electricity bill
Telephone bills
Driving License
Voter ID card
Utility bill
Rent Agreement on Stamp paper
Application address proof from a recognized public authority.
Resident Address Certificate
A company letterhead was given to the employer.
Bank Statements displaying your address
Latest Credit Card Statements displaying the address
Municipal or Property tax receipt
Required Copy of the deal while purchasing the property.
Life Insurance Policy displaying the address
Bank Statement of saving account from a post office
Self/Family Pension payments orders issued by Government departments or Public Sector Undertakings
License and leave agreement from employers allocating official accommodations
Required Documents issued by the government department of a foreign jurisdiction or a letter issued by any foreign embassy
PM Awas Yojana 2021 Application Form
The registration process is same as application process
PM Awas Yojana 2021 Benefits
This scheme is helpful for poor people. this scheme helps to take advantage to purchase a house at low cost.
The beneficiary receives credit or interest subsidies on their home loan based on the income category to which the family belongs.
PM Awas Yojana Eligibility Criteria
Applicant must be a permanent resident of India.
Applicant's age should be 18 years or above.
Applicant should not have any house or property.
No family member of the applicant should also own a house or property.
PM Awas Yojana Helpine Number
प्रधानमंत्री आवास योजना हेल्पलाइन नंबर
PMAYG Technical Helpline Number
Toll Free Number – 1800-11-6446
Toll Free Number: 1800-11-8111
Mail – support-pmayg@gov.in, helpdesk-pfms@gov.in
राष्ट्रीय टोल फ्री नंबर
ग्रामीण – 1800-11-6446
NHB (एनएचबी, शहरी) – 1800-11-3377, 1800-11-3388
HUDCO – 180011-6163