Vikramjit Singh Stats
In the international men's T-20 cricket world 2022, on Thursday before the scheduled match between team India and the Netherlands, Netherland Sikh opening batsman Vikramjit Singh talked about his forefathers belonging from a village in Punjab, India and his grandfather still living here in India.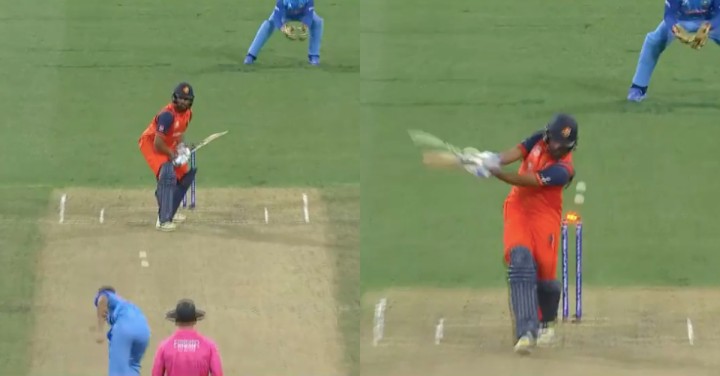 Vikramjit Singh told the story of his grandfather Khushi Cheema who fled the village named Cheema Khurd to protect his family during the riots in the year 1984, his grandfather boarded the train to Delhi when the riots were spreading all over Punjab and moved to the Netherlands with the family.
Khushi Cheema, Vikramjit's grandfather started driving a taxi when he moved to the Netherlands with his 5-year-old son Harpreet and other family members, later in the year 2000 Khushi Cheema came back after setting up a taxi business which he handled over to his son Harpreet.
Vikramjit Singh Basic Details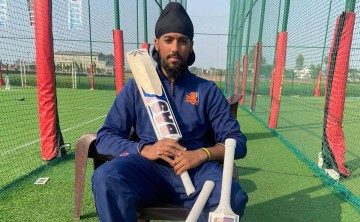 Full Name - Vikramjit Singh
Date of Birth - 9th January 2003
Place of Birth - Cheema Khurd, Punjab, India
Age - 19 years
Nationality - Dutch, Indian
International Career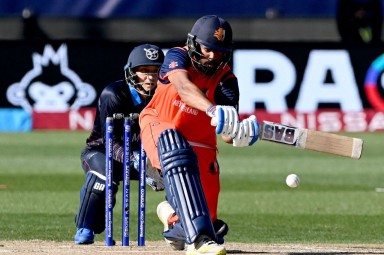 Vikramjit Singh made his debut for Netherlands A when he was 15 years old.

In September 2019 he was named to Netherlands T20 International Squad.

Vikramjit Singh made his T20 International debut for the Netherlands against Scotland on 19th September 2019.

In April 2020 he added himself to the list of seventeen Dutch-based cricketers to be named to the team's senior squad.

Vikramjit Singh made his List A debut on 11th May 2021 for the Netherlands A team against the Ireland Wolves during the tour of Ireland. Later in the month, he was also named in the Dutch One Day International squad for the ODI series against Scotland.

In February 2022 Vikramjit Singh was named to the Dutch ODI squad for a series against New Zealand.

Vikramjit Singh made his ODI debut on 29th March 2022 for the Netherlands against New Zealand.
More information on Vikramjit Singh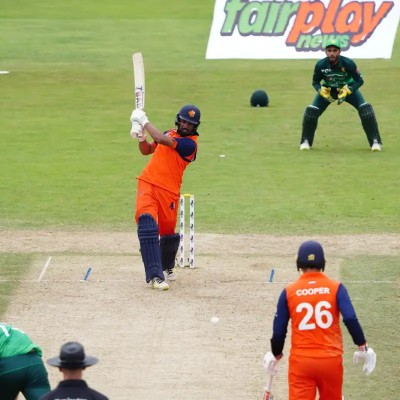 Vikramjit Singh Batting Style - Left-handed Batsman.

Vikramjit Singh Bowling Style - Right-arm Medium.

Teams Played - Netherlands, Netherlands A, Netherlands Under-19, Sparta Cricket 1888.

Batting & Fielding Statistics - Vikramjit Singh has batted in 16 matches and scored an overall 100 runs with a strike rate of 133, an average of 7.69, and the highest score in a single match is 24 runs.

Bowling Statistics - Vikramjit Singh has bowled in 9 matches and has taken 5 along with conceding 163 runs overall, with an economy rate of 10.86.

Vikramjit Singh was just seven years old when he was sent to the Netherlands by his family.

Vikramjit Singh was just 12 years old when former captain Peter Borren spotted the talent in the young fellow and decided to groom it further.
Vikramjit Singh FAQs
Ans - Vikramjit Singh's profile and biography, stats, records, averages, photos, and videos. Vikramjit SinghNetherlands|Opening Batter. INTERNATIONAL CAREER: 2019 - 2022.
Ans - Vikramjit Singh - Dutch Cricketer - Left-Handed Batsman, Right-Arm Medium Bowler.
Ans - Vikramjit Singh born on January 9th, 2003 is 19 years old.
Ans - Vikramjit Singh (born 9 January 2003) is a Dutch cricketer. He has played for the Netherlands national cricket team since 2019.
Ans - Indian-originated Dutch cricketer Vikramjit Singh was born in Cheema Khurd, a village in Punjab, India.
Thanks for reading this article. Please share your opinions on this blog. Vikramjit Singh Persnal Life
Visit this website to read more entertaining news, celebrity biographies, and much more:- choosedbest