When purchasing automobile insurance, it is critical to grasp the notion of coverage. You drive to work, take your family on chores and pleasure trips, and spend time with friends. As a responsible automobile owner, you maintain your vehicle in good condition, follow traffic laws, and practice good driving etiquette.
So you want to drive your automobile without having to worry about anything. Regardless of your preparations, your automobile may encounter unanticipated road hazards such as large or small accidents, breakdowns, tyre bursts, natural/man-made calamities, and so on.
What are the different types of Car Insurance in India?
The types of protection provided are referred to as insurance coverage. Along with the basic insurance coverage, you may pick from a variety of add-ons to strengthen the policy's protection. Let us first go through the five different forms of automobile insurance offered in India:
Third-Party Liability Only Cover: You will receive the following benefits under this sort of automobile insurance coverage. Third-party repair/replacement costs for damaged vehicles. Hospitalization and third-party treatment costs. Liabilities resulting from the death of third parties. Third-party automobile insurance coverage is required by the Motor Vehicles Act in order to drive on public roads. The sum assured should be appropriate for the driving circumstances and sufficiently large to eliminate out-of-pocket expenses on your part.

Collision Damage or Own Damage (OD) Cover: When you choose collision damage auto insurance, the cost of repairing your damaged vehicle is covered. The premium for collision coverage is calculated by taking the vehicle's age and Insured Declared Value into consideration. The IDV is based on the vehicle's market value. When a claim is filed under collision coverage insurance, the IDV less accrued depreciation determines the maximum amount payable under the policy. If you financed your automobile, you should have collision coverage.

Personal Accident Cover: Personal accident vehicle insurance coverage is used when you want to protect yourself, i.e., the owner-driver of the automobile, by selecting for reimbursement of medical bills following an accident.

Zero Depreciation Insurance: In India, this coverage is typically given as an add-on to automobile insurance policy. Assume your car has been damaged and you need to repair the parts. For claim settlement, the insurer will take the depreciated worth of the parts into account. A Zero Depreciation Coverage will ensure that you receive the full claim amount without having to account for cost depreciation.

Comprehensive Car Insurance: This form of coverage provides the most protection because it covers third-party liability, vehicle damage, personal accident coverage, and all non-collision damage such as storms, floods, fire, and theft. A comprehensive automobile insurance coverage may be supplemented with a variety of add-ons.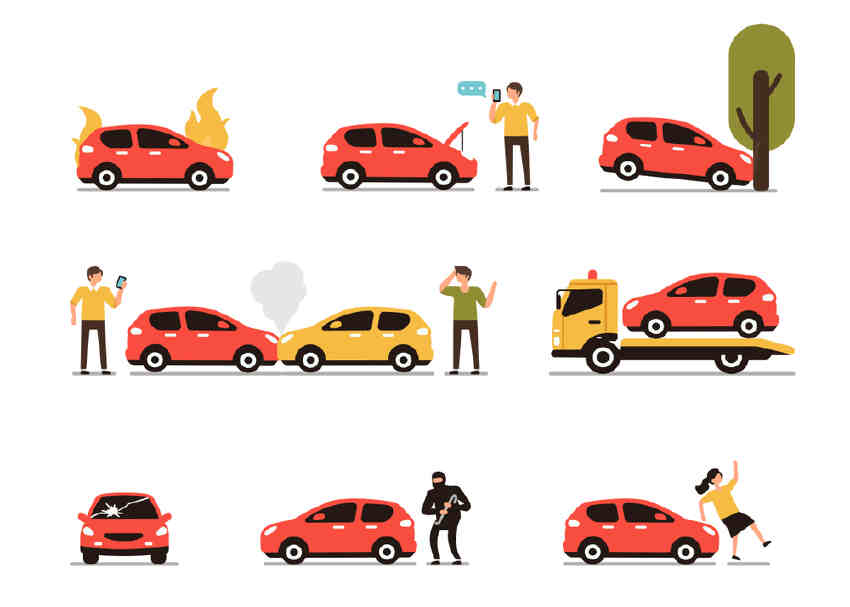 Factors to Consider When Purchasing Car Insurance
Market Analysis: With so many alternatives on the market, it can be tough to find the best vehicle insurance plan for you. As a result, conducting comprehensive study ahead of time becomes critical. With extensive study, you may select the greatest plan from the finest insurer. Check that your vehicle insurance policy provides comprehensive coverage at a fair cost. You should also select renowned insurance with a high claim settlement ratio and a big network of garages. This allows you to conveniently use the cashless claim service.

To be Used Fuel: If you own a diesel vehicle, you may have to pay a higher insurance rate. Diesel-powered cars are costly, as is their IDV. As a result, a diesel-powered vehicle will cost more to insure than one powered by gasoline or compressed natural gas.

Coverage Type: The coverage you choose will have a big influence on your vehicle insurance premiums. However, don't forego the sorts of coverage that you absolutely need in order to save money.

Third-party Insurance: Choosing third-party insurance coverage is needed under the Indian Road Safety Act and the Indian Motor Vehicles Act. As a result, before driving a newly purchased car on the road, acquire third-party insurance. Typically, your dealer will offer it, and the premium expenses will be added to the price of your vehicle.

Estimates and quotations: It's easy to accept a single estimate that looks to give a terrific premium and matching benefits, thinking that nothing better is available. However, this is an error that must be avoided at all costs. Consider collecting at least three quotations from different reputable firms.
Main Point
You should be aware of the various types of coverage available so that you may select an appropriate policy with valuable add-on riders. Check out Tata AIG vehicle insurance for comprehensive coverage, simple claim settlement, and 24x7 customer services. You may use our online vehicle insurance calculator to calculate the entire cost of your policy.